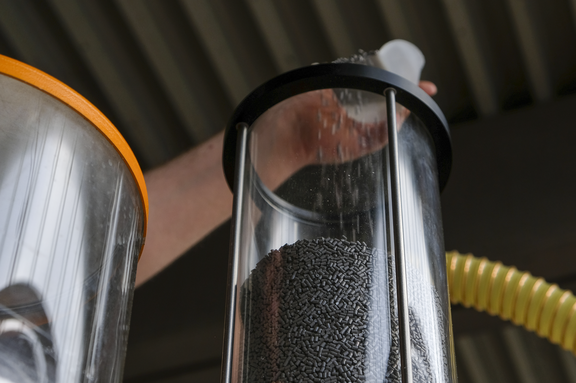 HIGH QUALITY THERMOPLASTICS
High-quality materials for first-class results
Thermoplastics
In the field of thermoplastics, we have extensive know-how from decades of experience.
Our services in the field of thermoplastics
Processing of almost all thermoplastics
more than 100 different types of raw materials in use
The range of materials includes unfilled as well as filled materials (e.g. glass, talcum)
processing of high-temperature materials, e.g. PEEK, PEI, PPS
Any colour settings possible with gravimetric dosing systems
Processing of different Shore hardnesses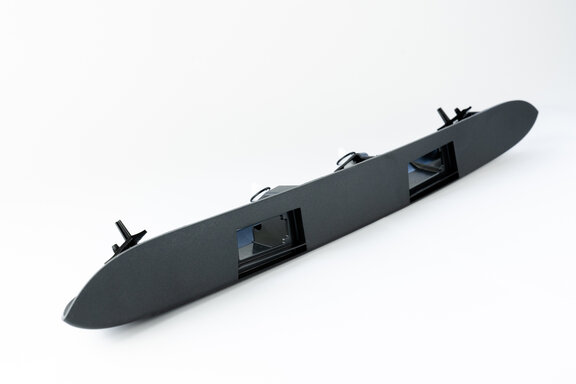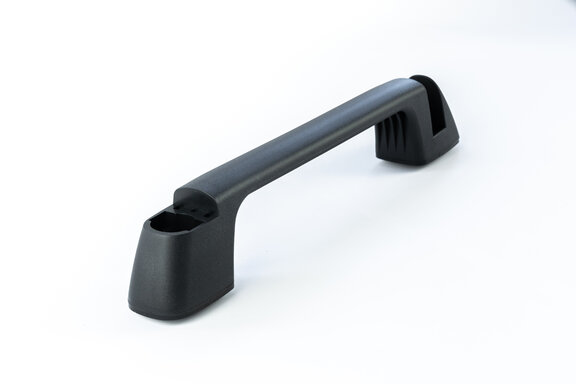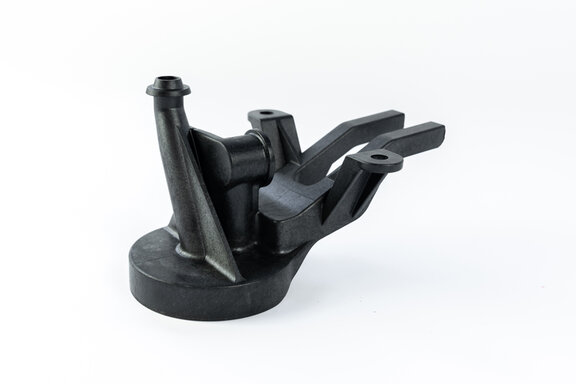 Indispensable materials for industry
Thermoplastics
What is colloquially referred to simply as plastic is a whole spectrum of different materials for the materials and manufacturing industry. Thermoplastics are among the most important and versatile materials. In many areas, thermoplastics have replaced other materials such as metals. They can be shaped as desired using various processing methods. Thermoplastics show their strengths especially in smaller components or objects for everyday use. It is light and yet robust. Unlike other materials, it does not corrode and is easy to clean.
That is why these plastics are not only suitable for indoor use, but also for outdoor use. In addition, there are special plastic types for technical and medical applications. Due to the high demand and many advantages of thermoplastics, KABO-PLASTIC has become a global manufacturer of plastic parts with intelligent methods and decades of know-how.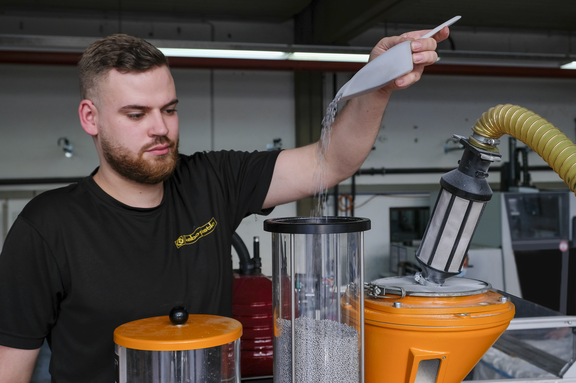 High-quality processing and use
Thermoplastics
How a thermoplastic is processed and used depends on its structure. There are amorphous and semi-crystalline thermoplastics. Polyamides (PA), for example, are widely used semi-crystalline plastics. They have good strength, toughness and hardness. They can be used for a wide variety of applications.
Each material has special properties and is suitable for certain purposes. This means that thermoplastics offer you a comprehensive range of possible uses. Another advantage is that they can be shaped precisely. They are excellent for making components and workpieces that need to fit together exactly.
Plastic moulded parts with injection moulding
Plastic injection moulding for series production and customised products
Injection moulding is one of the most common processes for shaping plastics. The melted plastic granules is injected under pressure into a prefabricated mould and cooled. In this way, plastic parts of uniformly high quality are produced within a short time. This manufacturing process is very suitable if you need many plastic parts in series. However, this method is also an excellent option for the production of a few special designs or complex plastic parts. Plastic injection moulding also makes it possible to process two or more plastics in one production run.
This makes it possible to have multi-coloured plastic objects produced. Multi-component injection moulding is also suitable for joining thermoplastics with different properties. This method eliminates the need for subsequent assembly or bonding.
Proven materials for numerous industries
Thermoplastics
Thermoplastics convince with their long durability and are versatile. Therefore, they are widely used in more and more industries. Electrical devices need covers, housings and plugs - in these cases, too, thermoplastics are among the preferred materials. They are just as widespread in vehicle, aircraft and boat construction.
The construction and mechanical engineering industries would be inconceivable without functional and structural parts made of resistant plastics. The list of our customers reflects this diversity. As a true injection moulding expert, we have been working with customers worldwide from a wide range of industries for decades.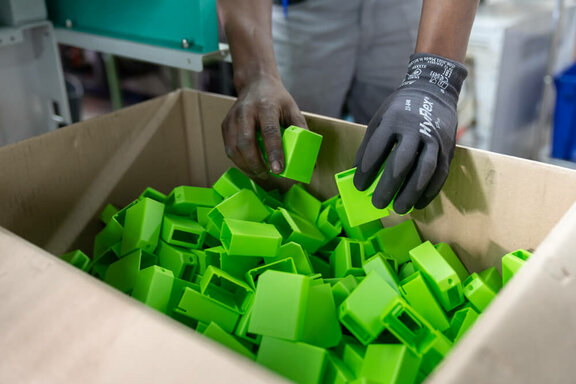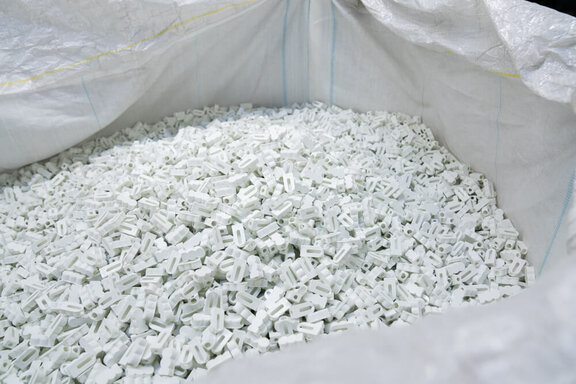 Individual moulded and precision parts
Versatile thermoplastics for your plastic parts
No matter in which craft or which industry you are active: We manufacture high-quality moulded plastic parts and precision plastic parts for you according to your specifications. In our innovative production facility, we produce the smallest parts weighing around one gram as well as complex parts weighing around 2.0 kilograms. With our modern machines, we can process almost all common thermoplastics.
You therefore have the option of choosing a material that has the chemical and physical properties you want - we will be happy to advise you on this. With regard to the production techniques of the plastic parts, there are also several choices. These depend on the material and the desired end product. We are proficient in a wide range of injection moulding techniques and are therefore able to find first-class solutions for even the most individual requirements. Our expertise is particularly pronounced in multi-component injection moulding or 2K injection moulding.
Reliable quality from the expert for thermoplastics and plastic parts
You can expect plastic parts of consistently high quality from KABO-PLASTIC. We not only have decades of experience and extensive expertise, but also modern machinery. Thanks to optimised work processes and certified quality management, we produce your parts with high precision and within the agreed time frame. In addition to our expertise and high-quality raw materials, the basis for our high quality standard is our own tool and mould construction. This allows us to continuously control all work steps in the production of your plastic parts. In addition, we have the possibility to maintain tools and moulds on site or to modify them if necessary.
High-quality advice and first-class service
Thermoplastics from KABO-PLASTIC
At KABO-PLASTIC we know how important expert advice is for a successful manufacturing project. Numerous details need to be clarified, from the choice of the right plastic to production times and quality control. Contact us if you have any questions about thermoplastics. Our experienced staff will advise you in detail on which materials and manufacturing methods are best suited for the production of your plastic parts.

We will work closely with you to ensure that you receive exactly the plastic parts that meet your requirements. If you need them for locations abroad, that's no problem. Because we deliver worldwide. Give us a call or send us an e-mail. We look forward to your enquiry.
We would be happy to advise you personally
Contact