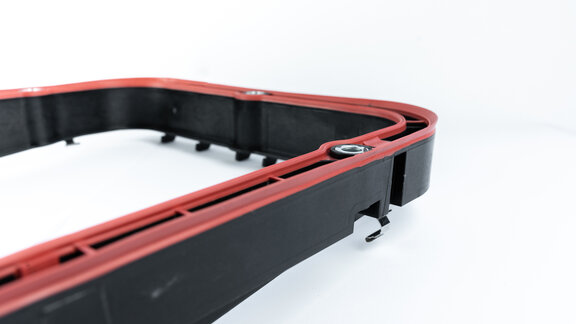 2-component injection moulding
Quality that makes the difference
2K injection moulding - First-class plastic parts from KABO-PLASTIC
Plastics processing is rightly one of the most important methods of producing components for a wide range of sectors and industries. In some areas, modern plastics have already replaced more expensive materials such as metals as the main material.
Plastics, such as those used for 2-component injection moulding at KABO-PLASTIC, are high-quality materials. They are ideally suited for producing precise components for all conceivable purposes according to your specifications. The end products have exactly the technical, optical and tactile properties that you require for your own production processes.
Thanks to our high-performance injection moulding machines and computer-aided tool design, it is possible for us to produce plastic parts precisely to your specifications.
A proven and versatile process
Injection moulding
Injection moulding is one of the most common methods of producing plastic parts of all kinds. Various plastics can be used as starting materials, for example thermoplastics. They are first heated and then injected in a liquid state into a mould. This method is efficient and economical.
Due to the low losses in the production processes, almost all of the starting material can be used. In addition, injection moulding can be used to reliably produce uniform plastic parts even in large quantities.
It is important that the tool that moulds the plastic parts exactly meets all specifications. If it is completely filled during each moulding process and the two parts of the mould are closed with sufficient pressure, identical plastic parts of consistent quality are produced. The process can be used to produce almost any conceivable shape as well as different wall thicknesses.
Injection moulded parts - exactly according to your requirements
At KABO-PLASTIC, we produce plastic injection moulded parts for you that have exactly the properties you need. Our machines are designed for parts weighing between approximately 1 gram and 2.0 kilograms.
Production of complex plastic parts
2-component injection moulding
In multi-component injection moulding, plastics can show even more clearly why they are considered versatile and useful.
Components or objects of daily use with several components are produced in a single operation in this process. The individual components usually fulfil different functions.
For example, the soft component often serves as a seal that is firmly bonded to the hard component through the injection process.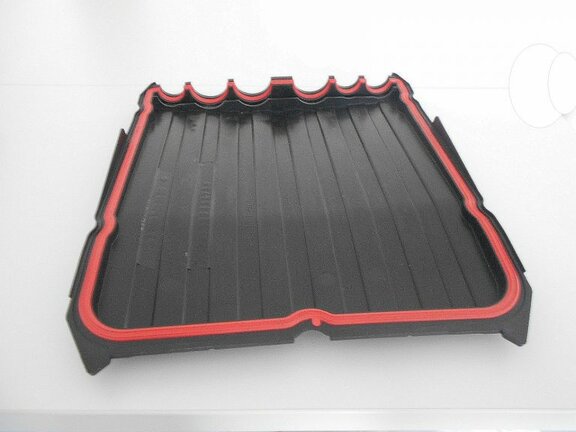 Another possibility of multi-component injection moulding is to produce differently coloured parts in one production process.
This is how toys or plastic trim for vehicle interiors are created, for example. Depending on how the plastics are chosen, they join together to form a solid unit or form movable components during curing.
A great advantage of plastic injection moulding is that the fixed connection is made in one work process like the moulding itself.
Subsequent assembly by gluing or screwing is not necessary.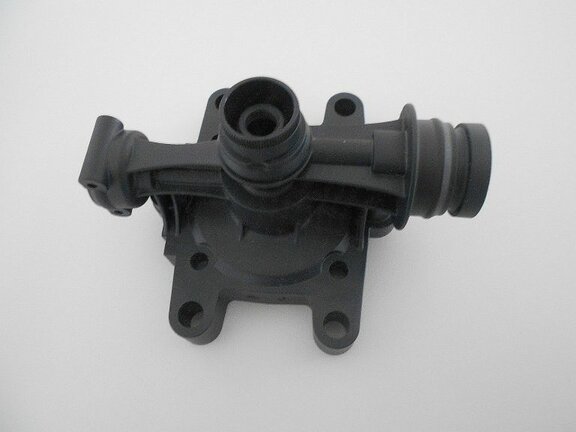 a particularly flexible manufacturing process
Plastic injection moulding
Injection moulding has prevailed as a manufacturing process partly because it can be used flexibly.
There are only a few limits to the variety of shapes of the parts. With the help of melted plastic granulate and precisely manufactured moulds, elements for numerous areas of application can be produced.
Plastic injection moulding is just as suitable for the series production of standard parts as it is for the production of small series according to individual specifications.
Different methods of combining the materials create a wealth of possible applications. Two plastics can be processed in such a way that they are clearly separated from each other.
Alternatively, they are processed so that they run into each other or so that one component envelops the other. Each of these techniques leads to different visual or functional results.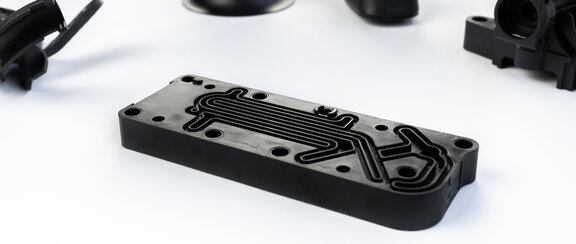 the solution for a wide range of industries
2K injection moulding as a proven option for numerous industries
2K injection moulding is suitable for a wide range of companies from a wide range of industries. Because objects made of plastic play an important role in many areas of everyday life. Whether toothbrushes, lamps, office supplies or kitchen utensils: robust plastics prove useful everywhere.
Their resilience and weather resistance are an advantage in articles for sports, leisure and outdoor activities.
Technical housing parts and electrical plug connections are another important area of application for injection moulded products. In these cases, in addition to stability, the accuracy of fit of the individual parts is particularly important.
In vehicle and furniture construction, plastic parts serve as coverings, connectors or load-bearing components. Precisely moulded functional parts are required in mechanical engineering, for example.
Every single one of them must meet technical requirements in addition to the shape specifications.
Experience & Knowhow - the key to success
2-component injection moulding - your professional
Making precision-fit, durable parts with multiple components requires expertise and experience. Not every plastic can be firmly bonded to every other.
The chemical and physical properties of the materials must match each other in such a way that both components bond reliably during injection moulding.
The material properties are equally important if two components are to be movable against each other. In this case, the plastics must not stick together.
At KABO-PLASTIC, we know from decades of experience which material pairings are particularly suitable for injection moulding. We know about interactions and side effects and can advise you accordingly.
Contact us if you need 2-component injection moulded plastic parts and have questions about realisation.
We will introduce you to the production methods that are suitable for your individual requirements.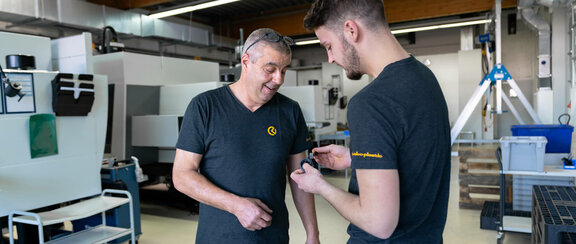 Precision and quality work
Your expert for plastic injection moulding
A look at our company history shows: We adapt our production to current developments and are at the cutting edge of technology. Thanks to modern machines and high-quality materials, we are able to produce robust, functional and reliable plastic parts. In all our production steps, we pay attention to consistently high quality. This applies to small parts as well as to large and complex ones, to small series as well as to high quantities. Our IATF and ISO certifications prove that we at KABO-PLASTIC attach great importance to careful work and take into account environmentally relevant factors.

Take advantage of our decades of experience and the benefits of our technical equipment. In addition to 2-component injection moulding, our range of services for you includes other services related to plastics processing. These include various injection moulding techniques, overmoulding of metal, installation of accessories, assembly and printing.
Of course, you can expect detailed advice from us if you have any questions about our processes and their possibilities.
Rely on our experienced team of experts
KABO-PLASTIC: Your expert for 2-component injection moulding
Call us or send us a message if you are interested in our offer to manufacture components or workpieces by 2-component injection moulding. If you still need information or would like detailed advice, our qualified employees are here for you.
We will answer your enquiries in detail and competently. Because we want you to find the best way to have your plastic parts produced.
Please feel free to contact one of our experts. We look forward to being able to help you.
Contact