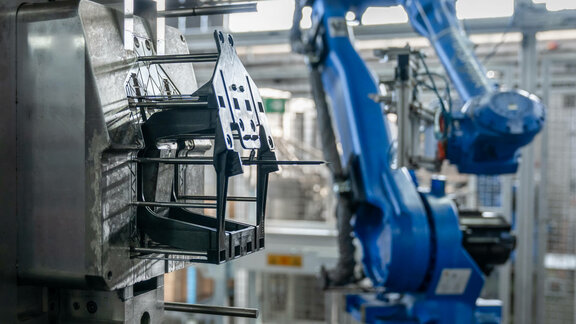 PLASTIC INJECTION MOULDING - INNOVATIVE TECHNIQUES
innovation - quality - modern technology
Plastic injection moulding based on highest precision and quality
For more than 55 years, we have specialised in customised and reliable injection moulding. We manufacture all plastic injection moulded parts with a weight of around one gram up to 2.0 kilograms in precision, from small series components to complex high-tech objects.
We focus on diverse industries, including the automotive industry, sensor, medical and building technology, construction machinery and consumer goods, as well as the aviation and furniture industries.
Diverse injection moulding techniques for flexible solutions
We offer various injection moulding techniques so that we can offer you the optimum plastic injection moulding solution and are very flexible in production.
Depending on the end product and the respective requirement profile, we select the appropriate technology. We have about 40 modern injection moulding machines on which we realise your individual projects with innovative spirit and professionalism.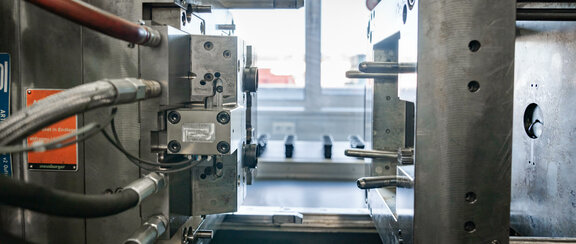 our techniques at a glance
Techniques plastic injection moulding
Compact plastic injection moulding of thermoplastics, also glass-fibre reinforced plastics
Multi-component injection moulding for the use of different materials in one component (e.g. hard-soft compounds) or the use of different colours in one component
Thermoplastic foam moulding (TSG) for the production of thick-walled sections on injection-moulded parts
Metal overmoulding
Fully automatic insertion of metal parts
Gas injection moulding (GID)
The individual techniques are explained in more detail below. The processes can be used individually or in combination.
If you have any questions, please contact us - we will be happy to help and advise you on the various options.
We would be happy to advise you personally
Contact
the most frequently used method
Compact plastic injection moulding
In compact injection moulding we process thermoplastics, for example also with glass fibre reinforcement.
This is the most commonly used process for plastic injection moulding and allows precise plastic moulded parts to be produced quickly and cost-effectively.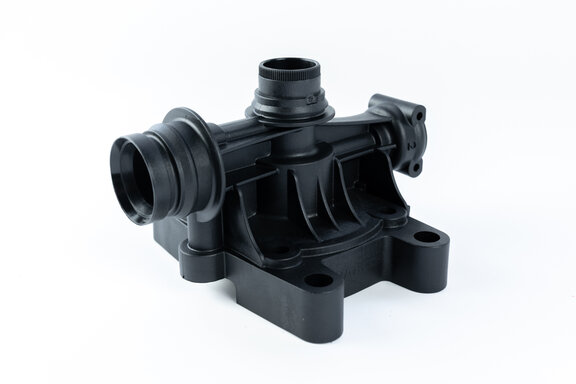 use of different types of plastics
Multi-component injection moulding (2K)
With multi-component injection moulding, two or more different types of plastic are used. This allows us to produce innovative plastic parts for you in different colours or with various integrated functions. For example, the plastic parts can be created directly from two colours to achieve a special design. Multi-component injection moulding is also used to create hard-soft joints.
Examples of multi-component injection moulding are seals, e.g. on tank nozzles, engine compartment covers with hard and soft areas, multi-coloured car tail lights and many more.
You can find out more under2K injection moulding.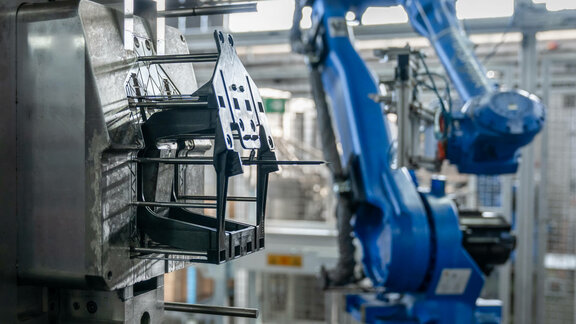 for thick-walled geometries
Thermoplastic foam moulding (TSG)
With thermoplastic foam casting, the thermoplastics used are foamed by means of blowing agents: this creates foam structures and allows thick-walled geometries to be produced in a targeted manner.
In addition, TSG is also a method of saving weight without reducing the wall thickness.
High standards
We attach great importance to quality and continuous quality improvement in production by means of plastic injection moulding. That is why our quality management is certified according to DIN EN ISO 9001:2015.
We have been certified according to VDA 6.1 since 1998. The extension to the international standard ISO/TS 16949 then took place in 2008. Since 2017, we have been certified according to the new standard of IATF 16949.
Our environmental management is also certified according to DIN EN ISO 14001:2015.
Production of plastic-metal joints
Metal overmoulding and fully automatic insertion of metal parts
We also offer you various processes to produce plastic-metal connections.
In metal overmoulding, a metal part is overmoulded with plastic like a thread. We also have modern handling devices that insert metal parts fully automatically into the injection moulding tool. There they are overmoulded with plastic.
The direct connection of plastic and metal enables the production of form-fitting and force-fitting components.
We will be happy to advise you personally
Comprehensive advice on the appropriate techniques for injection moulding
Please feel free to contact us with your injection moulding concerns.
We will advise you in detail and explain the various techniques. We will then select the most suitable process for your project.
Contact